Have you heard of DealSpotr?
Finding deals online can be a huge pain and cumbersome. That is why I joined Dealspotr. They have an array of deals, coupons, and codes that have been shared by people like you and me. Right now, there are amazing deals for Dyson, Munchkin, PetSmart and many more. From what I have seen, a lot (or rather most) of these deals are under what you would find on Amazon!
These money saving finds are constantly edited and deleted each day to keep everything updated, making sure there is nothing expired or irrelevant. (see their 2016 coupon accuracy study).
Why use Dealspotr?
Fastest way to find a working coupon code. Next time you're shopping online and need a code, check Dealspotr first.
By using Dealspotr's personal feed to follow all your favorite brands and get the latest deals in one social feed, you can stop newsletter spam. You can opt-in to email notifications from specific brands, and get a single personalized highlights email showing each day's best deals tailored for you.
Other incentives include earning gift cards for sharing deals and referring friends.
You do not have to be an Influencer or Blogger to join.
You can share your link or code and refer friends. Learn more here.
If you are a blogger or social media influencer looking to expand your business, check out their Influencer Network.
You can find Dealspotr on Facebook or Twitter.
Like what you hear? Think about joining the community of money saving like minded people. Simply click on the photo and sign up today!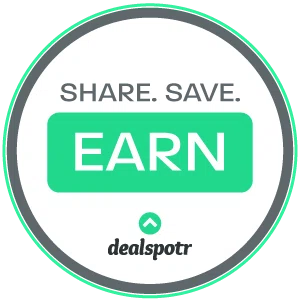 Happy deal hunting!
Disclosure: This post contains an affiliate link, which means that I earn a small percentage if you click through. Read my Disclosure Policy for more information. Thank you! ~Christine
Disclosure: This post contains an affiliate link.